— Posted in Tech, Uncategorized
9 Inventions that would transform our lives
by Hema
Necessity may be the mother of all inventions, but imagination is certainly the father. Likewise, there is an onset of a new world filled with technology which, we were only privileged to see in sci-fi movies.
Check out these amazing inventions which are revolutionary.
The Third Thumb
Although this tool resembles a prosthesis, its purpose is not to replace the missing limbs but, to further expand human abilities. The tool designed by Royal College of Arts alumnus Dani Clode is controlled by senses which can be built in a shoe. It efficiently helps in holding various devices.
Paqsule
A bag which would clear unwanted odor and germs with a press of a button. This smart bag takes about 35 minutes to complete this task and uses ultraviolet light and ozone to do this. This Paqsule can be controlled by iOS and android apps alike and has about 20 features.
Water Walker and Spa
This machine has combined features of a treadmill and water aerobics which would help people to loose weight. This can be used in different modes like spa, etc. And this can be installed even at homes.
Amabrush
This gadget toothbrush helps in cleaning teeth in ten seconds. This comes with a mouthpiece, a handpiece, and a toothpaste capsule and can be operated by iOS and Android app to set different vibration modes and cleaning times.
Anti-Theft Backpack
This backpack comes with hidden zippers, secret pocket and made up of extra-strong waterproof fabric that is hard to cut. The USB charging port, a luggage strap, and illuminating safety stripes make this the perfect anti- theft backpack.
Airing Micro-CPAP
This sleep apnea controlling device generates air pressure inside the inhalation vent so that the patient can breathe evenly and without stopping while sleeping.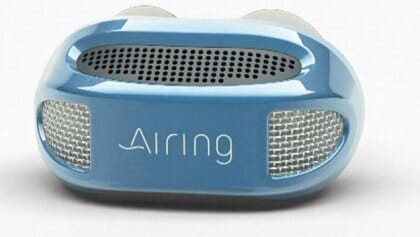 Polarseal
With a hit of a button this lightweight, waterproof, and breathable sweater will heat you up in 10 seconds. Available for both men and women this is ideal for skiers, runners, and fans of cold weather walk.
MTG Dental Camera
This device will save you a trip to the dentist. Just take a picture of the teeth using this MTG dental camera and send it to your dentist through a special mobile app. the dentist will diagnose the condition and decide if it requires making an appointment.
Synthetic Human Mouth
This synthetic mouth was constructed by engineers at Kagawa University, Japan, and contains silicone windpipe, vocal chords, tongue, and even a nose, which has a crucial impact on how we talk. It can even produce sounds and pronounce some words. Although the use of it is yet to be known, this synthetic mouth is able to teach itself through the sounds it hears and produces.
What did you think of this article? Please share your opinions in the comment section.